Glory x1000 Int RPG - brand new and unique server
This is a server that focuses on the highlights of the game.
Slow development in terms of equipment will not let you get bored quickly on this server.
A lot of unique innovations, unique models of weapons and armor, special quest systems, dungeons, boss raids, new locations and quests, events, bosses and much more await you here.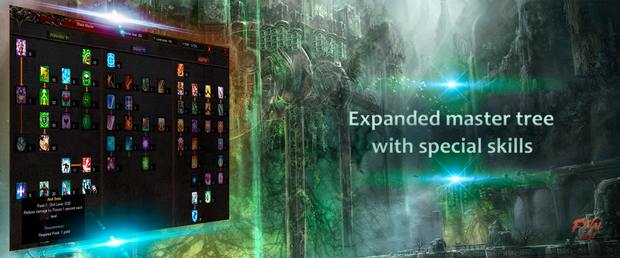 About Glory x1000 Int RPG short:
Version: Season 6+17 Episode Final
Rate: x1000
Drop: 30%
Game Model: Reset RPG!
Max game windows: 2
Max level: 400
Max Reset: 100
Max Grand Reset: 10
Max Hero Reset: 10
Reset from: 400 Level
Grand Reset with: 100 Reset
Hero Reset with: 10 Grand Reset
Max master level: 400
Master level is pumped immediately after 3 professions from level 300
Max talent level: 320
Talents are upgraded right after level 200
Elf buffer up to 5 Grand Resets
Party 10 people, Guild 25 people
Creating a guild: 5 Reset and 50.000.000 zen
Join a guild with 5 Reset
Purchased from Ruud Shop with 1 Grand Reset
Creating a Drill (mine) with 1 Grand Reset
20 Build Points are awarded on each Hero Reset
Auto reset is free and available to everyone

Briefly about x1000:

Client supports 120 FPS*
Game client fully in FULL HD,2k,4k(change resolution in launcher)
Class balance
12 levels of wings
8 Quest systems in different styles
Over 50 new weapons and sets
Joint quests and bosses in a party (shared rewards)
Party up to 10 people

Stats:

Max stats: Total 163835 points and 32767 max per stat
Stats can also be obtained from quests
Added a new stat to the game (Final Point) enhances HP SD Protection by 1% for every 40 stats, issued as a reward for special quests
/addstr - adds strength
/addagi - adds aguila
/addvit - adds vitality (stamina)
/addene - adds energy
/addcom - adds a command
/autostr QTY
/autoagi QTY
/autovit QTY
/autoene QTY
/autocom QTY
These commands automatically distribute stats for the parameters you set

Balance:

All classes are available from level 1
All classes are rebalanced, changed, all classes are absolutely equal, we have no imb or weak support characters
Each class has its advantages and disadvantages, which can be emphasized or enhanced by choosing the right character development
We guarantee a balance that will suit everyone
All attacks and characteristics changed
Added more than 40 new very different options to the game
The main emphasis in PVE is on Defence and Life Steal
The game implements the mechanics of attack and combat from season 17 (multi attack)
The game has a huge number of mechanics that allow you to customize your character as you like

Economy:

The main focus of the game is on Goblins, crystals and Jewels
Zen is important, collect it
Currency mining takes place at events, from quests, dungeons and in many other places
It is very important to do quests in a timely manner, they will provide you with everything you need
The massive PVP event TDM Arena is the main source of pharma
The extraction of items takes place through crafting and from special stores for the event currency

Pumping:

Spots in all locations for 6-7 monsters with a respawn of 8 seconds.
All monsters are reconfigured, strengthened, balanced.
For each member of the group, you will receive 15% of the EXP, the entire drop will be shared, zen will be distributed across the party, quests will be assigned to everyone

Events:

All classic season 17 events + about 20 new ones are implemented on the server
The events work perfectly, have been finalized and are relevant
An actual valuable award is displayed at all events
Some technical features of classic events have been updated:
There are a maximum of 20 players on the BC
Due to a reconnect or other problems, it will no longer kick out of the events, you will be automatically returned to the event after re-entry
Technically, it is forbidden to take events before the due time
Also, extremely interesting custom events have been added to the game:
Team Death Match is a meat grinder event that involves the server floor,wall to wall,high rewards and bonuses, 2 modes are available (FAN - All are equal) and (Standard) on several maps of different styles
Final siege of the island is a meat grinder event in which up to 5 guilds of 6 best representatives participate under a special battle format (FAN- All are equal) for the sake of a special private location Island
Happy Hour - increases exp 3 times a day
Blue Event - invasion of blue rabbits in a special arena, you can farm stones
Coin Event - a special arena for players where special goblins appear for farm GP
Skyland Event is a special arena for players where waves of monsters and bosses appear where zen are farmed
TDM Illusion Sample is a special modification of the classic Illusion Temlpe event in the format (FAN- Everyone is equal)
Pandora - an event to find and hold a chest for a valuable reward
Search Event - an event to search for NPCs in different locations
Digger Event - an event to search for items set by the NPC for a while
Auction Event - server auction with valuable lots
Holy Arena Event - Event with bosses, up to 20 bosses in a row fight for a while

Bosses:

There are more than 50 bosses on the server
Barefoot have skills, increased intelligence, speed and Regen HP
Bosses give different types of rewards, prizes and items
The reward for the boss will be distributed to the whole party
The bosses adjust their parameters to those who attack him
There are bosses of various types, for noobs, for guilds, for solo games
Most of the strong bosses require passage in a party of 2-30 people
The bosses are invulnerable 4 hours after the server restart

Quests:

There are more than 5000 quests on the server in 8 quest systems
There is a regular chain of quests (ideal for the initial stages of the game, gives resources up to the middle stage of the game)
There are daily quests (ideal as a means of additional farming, it is allowed to pass 3 quests a day)
There are weekly quests (ideal for farming at night for especially valuable items of the middle stage of the game)
Also Hero Quests (for the middle stage of the game, gives a lot of resources, stones, currencies, items, gives special power-ups and buffs)
and Final quests (for the middle and top stage of the game, gives a lot of resources, stones, currencies, items, gives special power-ups and buffs)
There are Books of Quests that give you quests (you can feed currencies, talents, builds, master level)
There are Gens quests (ideal for farming gens currency and goblins)
There are EveryDay quests (you can complete 2 quests a day, 4 quests for VIP players, gives currency and zen)
There is a Marathon quest with a valuable reward chain that can equip you
All quests can be easily completed in a party, the quest is processed

All quests have random valuable rewards:

Stats
Zen
Items
Jewels
Master level
Talents
Builds
Prof level
VIP
Seels for pumping
Goblins
Tokens
Crystals

Spots and Monsters:

Spots in all locations of 6-8 monsters with a respawn of 8 seconds.
There is a hidden double spot in each of the locations.
All monsters are reconfigured, strengthened, balanced.
We have included maps from season 17
The entrance to different locations is divided into levels, stronger locations require a high level

Currencies:

Zen – Monsters, quests, achievements, dailies, bosses, events, trading and so on.
Goblin Point – Monsters, quests, achievements, trade, dailies, contracts, events, bosses, goblin coins, for the time spent in the game
Tokens – Donat currency that can be bought with money or obtained from quests.
Craft Crystals – The currency received for melting old exe junk, serves as one of the prices for new mixes
TDM Points is the currency for the TDM store, they get it by participating in the TDM event,Chaos Castle,Illision Temple.
Contribute Points – PVP Gens Currency for the rank in the gens family and for the gens store, get it by killing enemy gens or doing quests
Guild Score - Guild currency, awarded to the guild for activity at events and bosses, increases the total guild buff, gm and agm can spend it in the guild store
Iron,Wood,Skin,Blueprints,Spares,Cloth - a special craft currency required for mixes, you can get it at events and from bosses, as well as from some quests

Playing in the party, you get a number of opportunities and power-ups:

For each player in the party, you will receive a 1% HP SD Protection bonus and a 1% damage increase
In the party, all rewards for killing monsters or bosses are given to all members of the group (100% of the reward goes to the one who killed, the remaining 50%)
In the party, all Zen raised on the spot are distributed to all members of the group
In the party, the drop achievement is credited to all members of the group
In the party, the achievement for killing bosses is credited to all members of the group
In the party you can pass quests with friends and everyone will enroll the right mobs
For each member of the group, you will receive 15% of the EXP, the entire drop will be shared, zen will be distributed across the party, quests will be assigned to everyone
All the parties available to you for kacha can be found in the NPC Party Manager in each city

Why us?

We are a standard-setting server and an example to other servers
Responsive administration, we listen to the opinions of the players.
An experienced team of developers, we have implemented ideas that have no analogues.
At the moment, one of the most unique and interesting servers.
Everything is done by our own hands, we are the authors of the assembly.
Unlimited possibilities in development, additions and updates.
High stability, protection against hacks, ddos and cheats.
The game client is completely in FULL HD
We are 9 years old!
---
Final Mu Online
is a
Mu Online Season 6+17 episode FINAL
server with a lot of its own, unique developments. The players of our server
Mu Online
appreciate it, first of all, for its unique game features, thoughtful economy and a fresh, non-standard look at the game.
The administration loves its server
and develops it as a hobby.
For many years, our
Mu Online server
has been developing and constantly improving, conquering new peaks, attracting many new players and reaching new horizons. During this time, the administration has made more than 1000 updates that made the server unforgettable. We have banned the game for more than 2 windows, cheats and vulnerabilities do not work, which guarantees our players a fair and balanced fight.
Our fans say that after playing on our server, you will no longer be able to play
other MU
.
Thanks to the recognition of Mu online fans, our server is included in the
TOP Mu Online servers
. Join us! Starting a game has never been so easy.